Feb 27, 2023 – Overview of the Winter Sowing & Native Pollinator Plant Project:
Bethel Land Trust, devoted to increasing pollinator plants at the preserves, has been busy partnering with Bethel schools and the community to raise seedlings over the winter for spring planting at Franc Preserve. A simple method of planting seeds in a recycled jug and leaving it outdoors over the winter was used. Called simply "winter sowing", it enables wildflower seeds to sprout at the same time as those in nature in a somewhat protected environment, while also providing the right environment for seeds that need cold moist winter conditions to germinate.
Bethel Land Trust coordinated with partners and provided supplies to plant over 150 jugs around town – and distributed additional seed packets – throughout January and into February. Seedlings will be planted at Franc Preserve in the spring.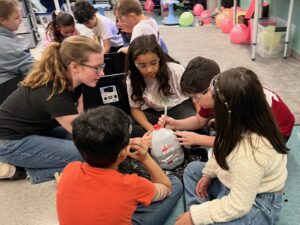 Third Grade: The elementary school students did a wonderful job planting sixty jugs in January! Bethel Land Trust partnered with Kit Nielsen, K-8 STEM Instructional Coach, and Justin Mack, lead teacher for this project, to make this project a success. BLT contributed supplies, and Kit and Justin developed the plan around winter sowing for the entire third grade to participate during class time. The students formed groups and did a wonderful job planting sixty jugs in the classroom with the help of high school volunteers. The seed jugs are overwintering next to the elementary school pollinator garden which will be expanded with these seedlings in the spring. The children enjoyed lessons about local ecosystems and our very own Bethel Land Trust preserves. Justin shared "The kids are really enjoying the planting and the idea that they're helping to save the world a little bit! They were pleasantly surprised to learn that some of their favorite places to hike or explore are part of Bethel Land Trust." Seedlings will be planted in the spring at the school, and some will join us at Franc Preserve for planting, as well.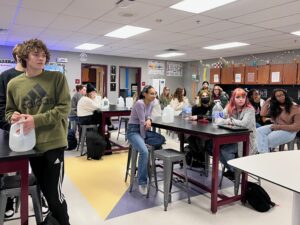 High School: Over seventy high school students, as part of the high school service hours program as well as the Environmental Studies classes, planted as many jugs. Bethel Land Trust coordinated with science department chair Ray Turek, and volunteer coordinator Danielle Conley, to advertise and coordinate this volunteer opportunity. Each student who attended the workshop to plant a jug, monitors their jug throughout the winter, and plants seedlings in the spring at Franc Preserve, will earn ten hours of service toward the sixty hours needed for graduation. Bethel Land Trust committee members Hillery Kirk and Sarah Haisley led the volunteers in a workshop to plant their seed jugs, and Environmental Studies students completed their jugs in class. Volunteers took their jugs home for the winter, and environmental students are keeping theirs outside the school building. All students will meet up with BLT in the spring at Franc Preserve to plant seedlings!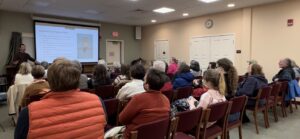 Town of Bethel: Over fifty community residents packed Bethel Public Library in mid-January for a talk about winter sowing given by Bethel Land Trust member J.D. Hill. The Programming & Outreach Librarian, Ellen Janpol, kindly coordinated the presentation and enabled participants to attend in-person or via Zoom. BLT members Mary Ann Kulla and Sarah Haisley were on hand and were joined by Bethel Garden Club member Krista Swanson Fiorini to help distribute prepared jugs to 20 lucky attendees, and seeds to all in-person participants. Everyone had a great time learning about native plants and winter sowing. Additionally, BLT made seed packets and winter sowing instructions available at the Parks and Rec office for any Bethel Resident who wanted to participate. Participants have been invited to plant some seedlings in their own gardens as well as meet up at Franc Preserve in the spring to plant!
Members of the Bethel Land Trust Committee who coordinated partnerships and projects: J.D. Hill, Sarah Haisley, Hillery Kirk, Mary Ann Kulla, and Don Warfield
Many thanks to our partners at Bethel Public Schools and Bethel Public Library
---
Click to view photos: