Mar 7, 2023 – New Land Acquired for Wolfpit Preserve
Join the Bethel Land Trust in celebrating an addition of nearly 5 acres to the Wolfpit and Janet P. Miller Preserves, which brings the total to over 97 acres! We have acquired an ecologically important 4.7 acre parcel that is bordered on three sides by our Wolfpit Preserve. This new piece of land includes a pond, stream, and valuable wetlands, and further connects and preserves habitat for animals and plants, as well as open spaces with trails for us to explore and enjoy.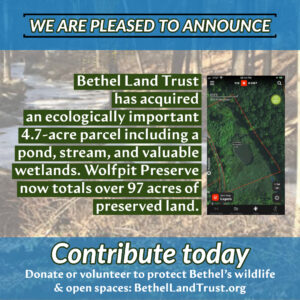 Obtaining this property would not have been possible without the cooperation of its previous landowners, Richard and Debbie Sutton, and the generous financial contributions of Peter & Karen Valenti, William Valenti, Bob & Cal Manfreda, Michael Valenti, and Don & Roberta Warfield. Special thanks are also due Peter Olson, Land Use & Conservation Counsel, for his always excellent legal expertise.
Have you visited Wolfpit Preserve? It offers diverse habitat for local wildlife and plant life, and a wonderful marked trail system (part of Enchanted Trail) for public enjoyment. Come for a walk in the woods to enjoy the sights and sounds of the wetland area with spring peepers, two trail portions with steep climbs that lead to overlooks, overgrown wet meadow, and a beaver swamp visible from the trail. You'll encounter old stone walls and a granite quarry (the wolfpit). Wolfpit Preserve is rich with clues about the history and ecology of the area. For directions and more information, visit bethellandtrust.org 
Contribute to support our efforts to protect more of Bethel's natural heritage!
Volunteer: bethellandtrust.org/volunteer
Donate: bethellandtrust.org/donate
The BLT is a 501(c)(3) nonprofit organization that is dedicated to preserving our natural environment. We currently own or manage over 400 acres of land.
Follow us on Facebook, Instagram and here on our website for more news about what we're doing to protect Bethel's green places and to learn how you can help.
Thanks for all of your contributions to help Bethel Land Trust to preserve open spaces!